The fact that you are moving on a tight budget doesn't mean that you cannot properly pack and prepare your belongings for the move. Here are six tips that will allow you to correctly prep your possessions of your upcoming relocation.
Use boxes that you have in your household
People tend to keep all kinds of boxes with the idea that they will need them some day and that day came when you decided to relocation to another house or flat. Also don't hesitate to use old shoe boxes to pack smaller items such as trinkets, refrigerator magnets, cables, writing accessories and so on.
Sort your belongings
The fewer boxes and items your move the less you will pay for man and van services. So before you commence the packing stage of your removal. Gather with your family and sort your possessions into three piles: To keep, To donate and To throw away. This way you will not only reduce the volume of the objects that you will be taking with you but you will also carry out a good deed as you will be giving away all your belongings that are in good shape but you don't need.
Label all the boxes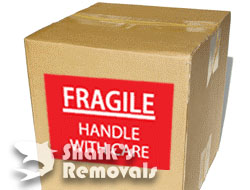 Not labelling the boxes may be costly for a number of reasons. For example the movers may place unknowingly the box that contains your glasses and dishes at the bottom of the pile which will ultimately result into your dishware getting crushed during the relocation. Another reason why you should take your time to label the boxes is that it will save you a lot of time during the unpacking stage of your domestic relocation.
Purchase removal boxes and protective gear
While using the boxes that you have hoarded throughout the years is a good idea you cannot go through a relocation without using specialised packing supplies. You can acquire top quality materials from Shark's Removal at very reasonable prices. By using such supplies you will have the peace of mind that your valuable and fragile possessions are safety packed and ready for loading and transport.
Organise a yard sale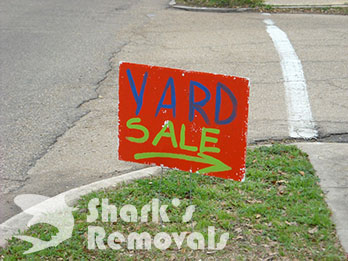 During the packing process you will certainly change your mind about some of the items that you initially decided to keep. So, put these objects aside and once the packing is over, organise a yard sale. This way you will get rid of these items and make some money to add towards your relocation budget with which you will pay to Shark's Removal for the man and van services.
Always have a box for miscellaneous items
You will be amazed how much items you will leave unpacked once you have grouped your belongings into different boxes and storage containers. By having separate box for all these objects you will save yourself a significant amount of money as you will quickly prepare them from the relocation before the movers arrive. Otherwise you will have to pay a packing fees as the removal technicians will pack the miscellaneous items for you.
As you can see you don't have to worry about your tight budget when it comes to the packing of your belongings because you can carry out an exemplarily job even with limited funds.